Video production
From Concept to Creation: Our Video Production Team Has You Covered
Elevate your online presence and boost your marketing strategy with our video production services.
Contact us
Stand Out in a Crowded Market with High-Quality Video Production
Our team of creative professionals specializes in bringing concepts to life through high-quality video production services. Whether you're looking to create a commercial, corporate video, or social media content, we've got you covered. Contact us today to learn more about how we can turn your ideas into reality.
Get in touch
---
Commercials
Cut through the noise
Commercials are a tried-and-true format used by companies to get their message out to their target audience. We help our clients to produce creative and entertaining content that stands out on the market and leads to increased brand awareness.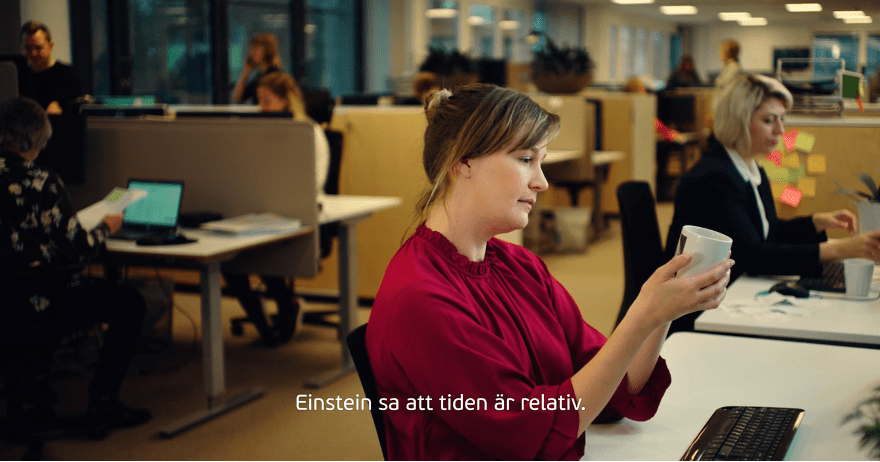 ---
Informational videos
Show, don't tell
We have several years of experience in producing informational videos for organizations such as the National Board of Health and Welfare, the Housing Authority, and Swedbank. Here we take complex information and make it easily accessible, simple, and understandable. These types of films are often animated, but when needed we also work with other visual formats.
---
Internal videos
Have a successful internal communication strategy
Many of our clients utilise video in their internal communication strategy. Film is an excellent tool to inspire, motivate and engage employees. Video production is also a very effective format when it comes to Employer Branding.
---
E-learning
Educate and engage
We produce educational films that meet a high business standard to facilitate learning for your next E-learning. All video production for E-learning follows WCAG.
Something else?
You may be in search for something different or new. Tell us about your project and goals and we'll find the best solution for you.
Let's talk!
Video marketing
statistics 2022
Using video on landing pages could potentially increase conversion by up to 86%.

Forbes
Approximately 62% of video views are from mobile users.

Ooyala
How many videos are watched online per day? More than 500 million hours.

Forbes
88% of marketers report success from using Instagram videos.

Wyzowl
Close to 50% of online users search for product videos before they make a purchase.

Think with Google
69% of people prefer video over text when learning about a product or service.

Wyzowl
Viewers retain 95% of the information after watching a video.

Forbes
The average user spends 88% more time on a website with video.

Forbes
Four in five consumers believe demo videos are helpful.

Animoto
Tailored solution
If you're looking for something that requires different parts from several of our services – we can tailor a solution just for you.